VOC's and Vapor Intrusion: Keeping Up-to-date with Current State Guidance
Due to recent snowstorms that have resulted in power outages in the northeast, the NJDEP has updated some of the guidance relating to VOC's and vapor intrusion. A building's level of risk of the presence of volatile organic compounds (VOC's) and vapor intrusion is based on the geographic properties of the surrounding area, the mitigation systems in place to minimize buildups, and general airflow in the most at-risk areas of the building itself (particularly the basement or any levels below ground level).
New Jersey isn't the only state to update the published guidance for these health hazards; Massachusetts, New York, Ohio and California are a few of the other states that have recently focused more attention on these health concerns and all U.S. states are being encouraged to do the proper research to determine whether the level of vapor intrusion and/or VOC is present in acceptable quantities. The most apt way to determine these levels is through the employment of IAQ monitors, like the Kanomax 2212. View the product page here: https://www.kanomax-usa.com/products/iaq-monitor-model-2212/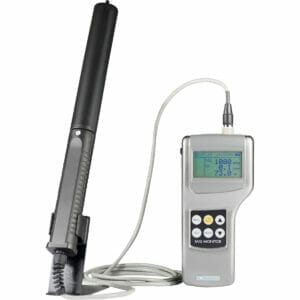 Here are some tips on keeping a building safe from VOC's and vapor intrusion during power outages from the NJDEP:
If they choose to, occupants can take the following actions to reduce exposure to organic vapors during a power outage:
Limit your time in the basement or lowest floor of the building as much as possible.
If the power outage continues for many days, create cross ventilation in the basement or lowest floor if the outdoor temperatures are tolerable. Cross ventilation draws outdoor air in one window and exhausts it out another window. This process does not have to be performed continuously and can be done periodically.
Do not simply open windows or turn on ventilation fans, as this may draw organic vapors from the subsurface into the building.
Additional information about vapor intrusion can be found on the New Jersey Department of Environmental Protection's Site Remediation Program website at http://www.nj.gov/dep/srp/guidance/vaporintrusion/
Please review the following documents to fully understand the hazards of VOC's and vapor intrusion as well as what can be done about it: