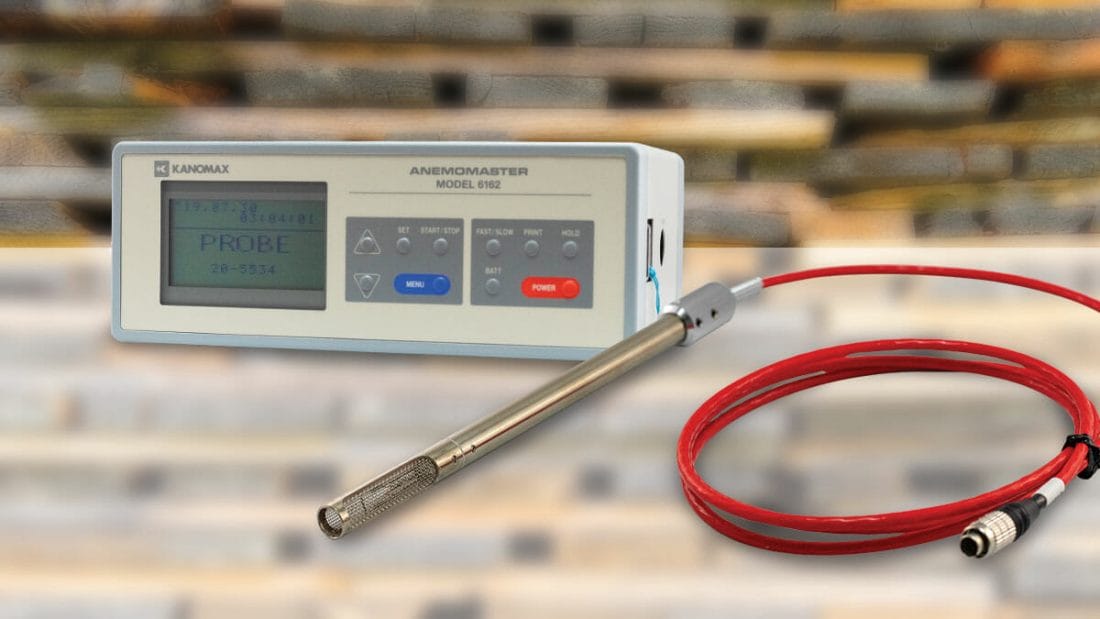 High Temperature Anemometer For Kiln-Drying Wood
Wood drying is necessary because it helps reduce moisture, extending its lifespan and hardening it for construction purposes. When the wood drying is done in a kiln, it is known as 'kiln-dried lumber.' It is well-known that log homes are built for energy efficiency and beauty, but to achieve both goals, logs need to be hand-cut and kiln dried so the moisture and minimized and the wood is stabilized to an acceptable level for use in structures. As you might have guessed, over-drying is a possible problem as much not drying the wood enough.
So how do you ensure the right amount of kiln drying is done to wood intended for construction? Great question; you use Kanomax instruments like the High-Temperature Anemometer – Model 6162.
Logs are typically kiln dried for at least 30 days but could require a much longer or a much shorter amount of time, depending on the initial moisture content and inherent kiln conditions at that point in time. The kiln conditions can vary significantly, and it is crucial to monitor those conditions by using an anemometer that can handle the extreme temperatures typically found within kiln environments.
Kiln drying is done by regulating temperature and humidity within the circulating air. The Model 6162 from Kanomax measures both simultaneously and removes any danger of damaging the probe or returning skewed readings due to extreme temperatures, because the probes are designed to perform in exactly that type of condition. Check out some of the specs and detailed information on the product below and continue reading about kiln drying at the bottom of the article.
What is the application?
Main Applications for 6162 Include:
Drying Process Control (including wood kiln drying)
Forming Process Control
Exhaust Air Measurements
Device Performance Testing, including (but not limited to):

Stacks
Kilns
Drying ovens
How many points will you need to measure simultaneously?
Measuring multiple points might require the purchase of multiple units – possible discount available if this is the case
Analog output
What is the temperature and velocity of the air you will be measuring?
Consider the 6162 if temperature is above 212°F
Probe selection:

0203 (.43" diameter x 7.8" length)

For temperatures of 32-392°F:

Air velocity ranges up to 40-9840 fpm (0.2-50 m/s) at 32-212°F
Air velocity ranges up to 80-9840 fpm (0.4-50 m/s) at 212-392°F
0204 (.6" diameter x 39.4" length)

For temperatures of 212-752°F:

Air velocity ranges up to 138-9840 fpm (0.7-50 m/s) at 392-572°F
Air velocity ranges up to 197-9840 fpm (1.0-50 m/s) at 572-752°F
Note: Temperature alone can be measured up to 932°F with the 0204, but velocity can only be measured at temperatures up to 752°F
Are you going to attach the probe to the test environment?
If YES:

You will need a compression fitting

For probe 0203, it will be Model 6162-07 (3/4in.)
Cable specs:

Extension cable: 16.4ft. (5m)
Vinyl lead cable: 4.92ft. (1.5m)
Tolerates temperatures up to 176°F (80°C)

For probe 0204, it will be a Model 6162-06 (1in.)
Cable specs:

Extension cable: 32.8ft. (10m)
Teflon lead cable: 7.54ft. (2.3m)
Tolerates temperatures up to 392°F (200°C)

If NO:

Accessories for holding the probe manually during measurement:
For probe 0203, an extension rod measuring 31.5"
For probe 0204, an extension rod measuring 81.5"

Unit comes standard with a shoulder strap, simplifying manual, multiple point measuring
More accessories for the Model 6162:
DPU-S245 Printer
TP-202L Printer Paper
6511-09 Printer Cable
6162-05 RS232C Cable
6000-41 Software
6162 Features
At 932ºF, our High Temp probes can handle high heat!Note: although the probe can measure temperature ranges up to 932ºF, it can only measure air flow in temperatures up to 732ºF.
Simultaneous display of air velocity and temperature up to 500℃ (932°F).
Secondary temperature compensation circuit provides quick response time.
Standard with a NIST traceable calibration Certificate*.
Graphic display allows easy review of historical data.
6162 allows you to easily interchange smart probes.-Separately sold probes allow you to choose the probe that's best suited for your application.
Two probes selections, Middle Temperature up to 200℃(392°F) and High Temperature up to -500℃(932°F).
Temperature compensation circuitry ensures accurate velocity measurements in rapidly fluctuating air stream temperatures.
RS232C interface, analog output and remote-control terminal equipped.
Store up to 999 measurements.
6162 Series Specifications
High Temperature Anemometer – 6162 Series FAQ'S
What kinds of air flow can I measure with my Kanomax anemometer?
You can measure clean air between 32 and 752°F (please see the specifications for exact details as each probe is different) in an environment with no visible condensation. (NOTE: the high temperature probes can measure temperature up to 932°F, but air flow can only be measured up to 752°F.)
What probes are available for the 6162?
We offer three different probes. 0203 is our mid-temperature probe, it's rated for temperatures between 32 and 392°F. Probes 0204 and 0205 are high-temperature probes that can measure air flow between 32 and 752°F. The 0204 probe is 1000mm long, while 0205 is 500mm long. All the probes come with a case, cable to attach it to the 6162 and a NIST certificate.
I'm confused, the specifications say these probes can measure up to 932°F, but in the FAQ you keep saying the upper limit is 732°F. Which is correct?
The instrument can measure temperature ranges up to 932°F (with 0204 or 0205), however you can only measure air flow in temperature ranges up to 732°F.
What do I need to purchase in order to use the 6162? Is it compatible with other Kanomax probes or anemometers?
No, the probes (0203, 0204 and 0205) can only be used with model 6162. You need to order both 6162 and at least one of the probes: 0203, 0204 & 0205.
What does model 6162 come with?
Shoulder strap, AC adapter, 2 pcs. analog output cable and 6 x C batteries
More information on kiln wood drying:
Drying process can be defined as one where water is removed by evaporation from a solid or semi-solid or liquid. Industrial process uses different drying principles and temperature levels. One of the most common types of process uses air which is heated with steam, hot water or gas and then it is passed over the wet product. The air then picks up moisture from the wet product. Thus, energy and humidity increases which makes it a heat source.
One of the basic drying processes is done by exhausting the humid air.  A heat pump is used for extracting heat from the humid air. This extracted heat is then used for heating the dryer. Drying is generally used in food drying operations. It helps to expel moisture and retain other constituents which provide flavoring properties. There are different drying processes for raw materials according to their application areas. Drying is a reliable process and widely used.
Industrial drying process uses belt dryers and tray dryers which enables the drying process to get a precise control of the drying procedure. In the industrial drying a hot air is used for removing moisture from the raw materials. This treatment helps the raw materials to get a long shelf life and does not require addition of preservatives.
Spray drying process is used in different applications such as pharmaceuticals, plant extracts, soaps and detergents, beverages and textiles etc. Freeze drying is a slow process which is used in biochemical and pharmaceutical industries.
Summary – Kiln drying process is done by regulating temperature and humidity of the circulating air. Drying process can be defined as one where water is removed by evaporation from a solid or semi-solid or liquid.