Next Gen Airflow Transducers and Multi-Channel Anemometers
Kanomax USA is proud to introduce the next generation of our research-grade airflow measuring instruments: the Airflow Transducer – Model 6333, Multi-Channel Anemometers – Models 1580, 1590, 1591, and 1592, and matching probes.
The following video introduces users to these new innovative Kanomax models and probes. We cover what is included with these instruments, their features, benefits, and differences, applications, and operating procedures. Check the video out below and let us know what you think!
Multi-Channel Anemometers – Models 1580 & 1590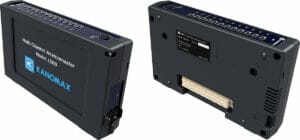 The Kanomax Multichannel Anemomaster – Model 1580 is our entry level next generation multi-channel anemometer. Perfect for measuring airflow in semiconductor manufacturing. Measure up to 12 channels with the industry's most accurate and smallest miniature probes. Features high heat resistance and temperature measurement. Multi-point measurement has never been easier.
The Kanomax Multichannel Anemomaster PRO – Model 1590 is the world's most accurate and responsive multichannel anemometer. With accuracy and responsiveness that encompasses the entire air velocity range, including the breeze speed range, this instrument provides the highest level of accuracy in the world. Expand up to 144 channels by connecting multiple 12-channel Model 1591-00 units.
The finest detailed measurements are realized with our new mini probes; the industry's smallest miniature probes available, heat resistance, and temperature measurement.
By connecting an optional analog unit (Model 1592-00), it is possible to record measurement results to your data logger. Each analog unit has 12 channels, and the electric current or voltage can be selected for each channel.
A maximum of 12 units and 144 channels can be added to a single main unit, making it ideal for data collection when using a data logger.
Airflow Transducer – Model 6333 & Probes
The Kanomax Airflow Transducer – Model 6333 is a stationary hot-wire anemometer and compact to easily build into other devices. 15 compatible probes available for simultaneous measurement of air velocity, temperature, and humidity. Both analog output and digital output available. 3 systems for analog output enables simultaneous measurement of air velocity, temperature, humidity. Possible to use in various applications such as in buildings, factories, data centers, and more. The best airflow, temperature and humidity sensing device for internet of things (IoT) monitoring.